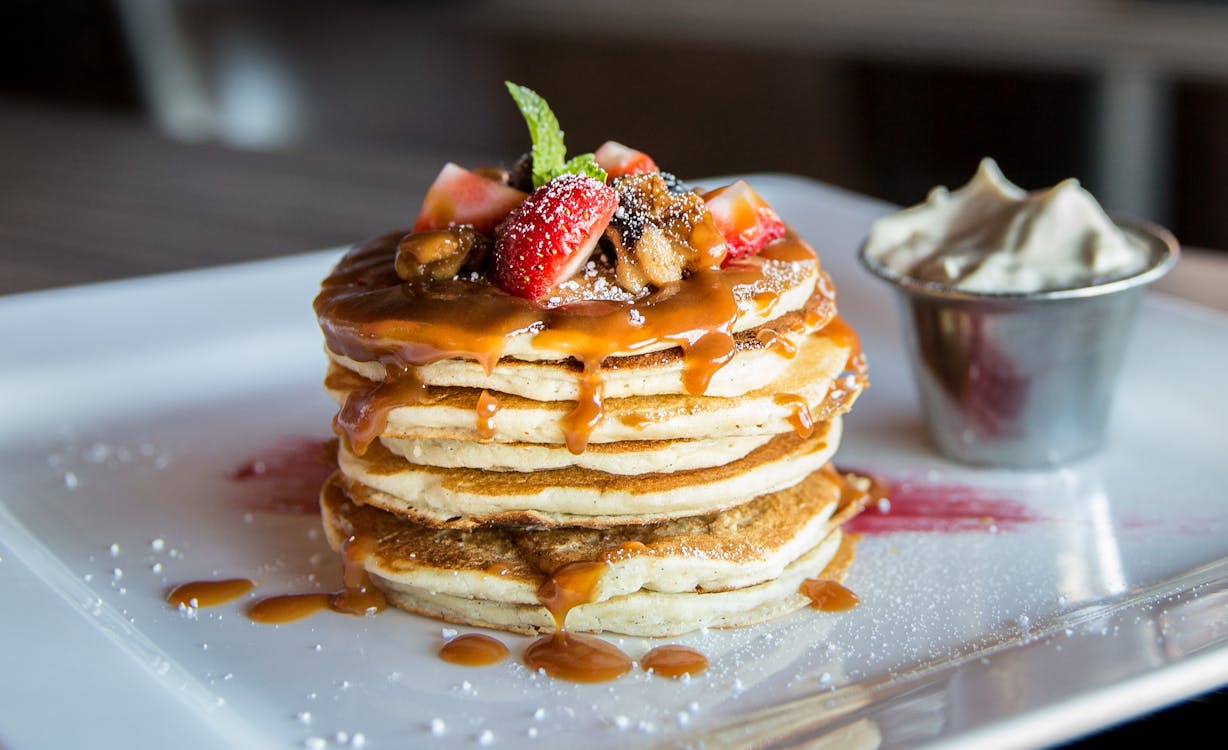 Looking for Keto Pancake ideas? Here are some easy and great ideas that kids and adults will love! We have gathered up some of the best Keto Pancake ideas.
These ideas are great for the low carb ketogenic diet. Perfect for keto beginners and everyone on the keto lifestyle. Take a look at these great Keto Pancake ideas now that you are sure to love!
1. Keto Almond Flour Pancakes
These are gluten-free and Keto/low carb friendly. Making them super fully and delicious pancakes for breakfast.
Ingredients
1 cup Blanched almond flour (blanched & finely ground recommended)

1/4 cup Coconut flour

2-3 tbsp Erythritol (or any sweetener of choice)

1 tsp Gluten-free baking powder

5 large Egg

1/3 cup Unsweetened almond milk

1/4 cup Avocado oil

1 1/2 tsp Vanilla extract (optional, but recommended)

1/4 tsp Sea salt (optional, but recommended)
Instructions
Whisk all ingredients together in a bowl until smooth. (Batter should be the consistency of typical pancake batter. If it's too thick, add a little more milk. Don't add too much, or the pancakes will be too "wet".)

Preheat an oiled pan* on the stove over medium-low to medium heat. Drop the batter onto the hot pan and form into circles. Cover and cook about 1.5-2 minutes, until bubbles start to form. Flip and cook another 1.5-2 minutes, until browned on the other side. Repeat with the rest of the batter.
2. Almond Cream Cheese Keto Pancakes
Just because you're on the Keto diet doesn't mean you've gotta miss out on the joys of flapjacks. This recipe is super easy and will definitely satisfy your craving.
1/2 cup plus 1 tbsp almond flour (60g)

1/2 cup full fat cream cheese (125g)

4 eggs

1/2 tsp cinnamon

1 tsp granulated sweetener (optional)

butter for frying
Mix all ingredients in a blender.

Fry pancakes in melted butter in a non-stick pan over a medium heat. Turn over once the centre begins to bubble. The pancakes should be smallish, ca 10-12 cm in diameter. About the right size to fit them in the toaster the next day should you be so lucky to have any leftovers.
3. Silver Dollar Keto Pancakes
These Keto Silver Dollar Pancakes are a fantastic low carb spin on a breakfast time classic. They are quick and easy to make and they taste just yummy and made with healthy real food ingredients.
5 eggs

3 tbsp MCT oil (I use this brand)

½ tsp baking soda

1 tbsp collagen peptides (I use this brand)

Pinch of pink Himalayan salt

1 tsp vanilla bean scraping (vanilla powder)

5–6 tbsp coconut flour (I use this brand)

¼ cup sparking water
Instructions
Heat a flat cast iron skillet or griddle on medium heat while you prepare your batter. If you didn't know, this is the proper way to heat cast iron so it's non-stick. Low and slow! It will take about 10 minutes to come to temperature.

So while that heats, in a large bowl crack open all your eggs. Add in the MCT oil and whisk together.

Next add in the baking soda, salt, vanilla, collagen and coconut flour. Whisk until the mix is smooth and thick. You might want to start with 5 tbsp. Once it thickens add in the sparkling water, I just use whatever flavor La Croix I have on hand, it doesn't mess with the flavor.

Lightly grease your skillet and make 2-3 pancakes at a time using ¼ cup of batter. When the pancakes are dry around the edges and look fluffy and white, flip them over. Cook another 2 minutes, until the center feels bouncy and firm when touched.

Repeat with the remaining batter. Makes about 9 pancakes.
4. Keto Chocolate Chip Pancakes
The easiest and fluffiest keto chocolate chip pancakes. Not only are the delicious, they are low carb and sugar-free. The perfect way to start the weekend.
Ingredients
3 T coconut flour

1-2 T granulated sweetener of choice

Pinch baking powder

Pinch sea salt

3 large egg whites for vegan option, use 1 T + 1 tsp Ener-G egg replacer + 1/3 cup water

1 T mashed starch of choice I've tried pumpkin, applesauce and even mashed sweet potato

1/2 cup + dairy free milk

1/2 tsp vanilla extract

1 T dairy free mini chips
In a large mixing bowl, sift the coconut flour, granulated sweetener of choice, sea salt and baking powder to avoid clumps. Mix well to combine.

In a small bowl, whisk the egg whites or ener-G egg with the vanilla extract. Add to the dry mixture, along with the mashed starch of choice. Using a tablespoon at a time, add dairy free milk until a VERY thick pancake batter is formed- Not like a traditional silky batter. Mix lightly, adding the chocolate chips. but do not over mix. Allow to sit to thicken slightly- This is very important. The pancake batter may look thin at first but it needs time for the coconut flour to absorb the liquid

Spray a pan with cooking spray and heat on low/medium. Once pan is extremely hot, pour batter using a 1/4 cup at a time- It should be extremely thick. Cook pancakes for 1 1/2 minutes or until the edges just start to bubble (it's best to cover the pan!) before flipping and cooking for an extra minute. Repeat until all the pancakes are cooked.
5. Single Serve Keto Pancakes
They are super easy to make and unlike so many low carb pancake recipes, they aren't too fragile to flip on the griddle.
Ingredients
1 oz Cream Cheese

1 large Egg

1 1/2 tsp . Coconut flour

1 1/2 tsp . Flax Meal

1/4 tsp . Baking powder

1/4 tsp . Vanilla extract
Instructions
Pour all ingredients into a small blender cup and pulse until smooth and well mixed 10-20 seconds.

Allow batter to rest 2-5 minutes while heating a non-stick frying pan or griddle.

Pour out 3 pancakes onto medium-warm griddle. (Note: Cook these at a slightly lower temperature than regular pancakes, so they don't burn on the outside before they cook in the middle.)

Flip pancakes when they bubble up on top.

Allow to cook about 1-2 more minutes and serve hot.
6. Keto Hot Cocoa Pancakes
With THIS recipe, who can feel deprived on keto? These Keto Hot Cocoa Pancakes are not only scrumptious, but only 6 grams total carbs and 360 calories for the entire recipe
Ingredients
2 Eggs

2 oz Cream cheese softened

1/2 tsp Vanilla

2 Packets stevia or other low carb sweeteners (read your labels, there can be sneaky carbs here)

1 Tablespoon Cocoa Powder

Gheefor the skillet
Add all of the ingredients to your mixing bowl and blend well with your hand mixer on medium. The batter should be smooth with no bits of cream cheese visible (though I've been impatient and made them this way and it was fine, just with bits of cream cheese in the finished pancakes obviously). Preheat your small non-stick skillet to medium-low (3 on my stove top) and add a little ghee.

Pour just enough batter into your skillet to cover the bottom. Wait until bubbles appear and pancake appears set. Flip. Cook until done, about 30-60 seconds on the second side.
7. Ingredient Keto Pancakes
Ingredients
4 eggs

4 ounces cream cheese

1/8 tsp salt
Add all ingredients in a blender. Blend until fluffy, 1-2 minutes. (I found they were fluffier if I blended longer.) Let rest for 1 minute.

Pour slowly (they spread FAST and get thin) onto a greased griddle or pan on medium heat. Cook 1-2 minutes per side. Flip the first time when they are starting to look settled and cooked around the edges.
8. Fluffy Keto Chocolate Pancakes
These amazing low-carb pancakes are sugar-free, grain-free and nut-free. use ricotta cheese to make them fluffy and soft inside, and crispy on the outside. Make them in batches and freeze for a quick keto breakfast or treat.
Ingredients
1/3 cup + 1 tbsp unsweetened cacao powder (34 g/ 1.2 oz)

1 tsp cream of tartar

1/2 tsp baking soda

1/4 cup powdered Erythritol or Swerve (40 g/ 1.4 oz)

1 tsp cinnamon or 1/2 tsp pure vanilla powder

4 large eggs, room tempearture

1/2 cup full-fat ricotta cheese, room temperature (120 g/ 4.2 oz)

2 tbsp ghee or coconut oil for greasing
Mix the dry ingredients: cacao powder, Erythritol, cream of tartar, baking soda and vanilla powder (or cinnamon).

Crack the eggs into a bowl, add the ricotta cheese, and beat using a hand whisk.

Add the dry ingredients and mix well.

Grease a pan with some ghee or coconut oil and once hot, using a spoon or ladle, create small pancakes. You can use pancake molds like these to create perfect shapes.

Cook on low-medium heat for about 5 minutes until the top of the pancake starts to firm up and you see bubbles forming on top. Then, remove the pancake mold (if used), and flip on the other side. Cook for another minute just to crisp up. Repeat for the remaining pancakes and grease the pan as needed.

Enjoy with your preferred toppings or let them cool down and place in the fridge in an airtight container for up to 5 days.